08October
Remington Model 1911 R1 A Great Entry Level Pistol
Terril gives us a honest first impressions review of the Remington R1 1911 handgun.
Remington offers plenty of "souped up" 1911 pistols, but their base model offers the nostalgic look and feel of pistols from a bygone era.
Remington represents a true "jack of all trades" company. The company reached prominence thanks to their New Model Army series of revolvers during the American Civil War and survived the post-war pistol drought with their successful Rolling Block rifles. In the early 20th century, Remington was as competitive as Colt or Savage in the American handgun market; but over the last several decades the company has focused on their rifles and shotguns. It was not until 2011 that Remington reentered the market when they introduced their R1–a 1911 style of handgun and one that caught my attention from its initial release.
1911 pistols are a source of frustration for me. I always had a problem with viewing these pistols not as tools but as portals of nostalgia. Further, the influx of imitations have muddied the waters. Everyone and their grandmother is making a 1911 pistol, some good, some not. Cue those who feel the need to tweak the platform with different cartridges, short reset triggers, and overzealous machining. This is mostly to meet demand.
Over one hundred years after its introduction, 1911 pistols are just as prolific as ever to meet any need from self-defense, competition, even hunting. Left in the dust is the classic "GI" model. I am drawn to the basic model, similar to how the pistol was first introduced. A pistol that is both good-looking yet unrefined wrapped into one product. No fancy G10 grips, skeletonized parts, fancy finishes, and night sights. Plain walnut grips, blued steel, low profile sights appeal to me. There are a few good manufacturers of this style, but the Remington guns have been more prolific on the shelves wherever I happen to be. They certainly look nice and the price was right, so I ultimately bit on the R1.
But would this temper my hostile feelings toward a design loved by everyone else but me?
Remington R1 General Features
The standard Remington R1 represents a full sized 1911 pistol boasting a five-inch stainless steel barrel and blued carbon steel slide, frame, and appointments. The presentation is finished off with a pair of checkered walnut grips. From a distance, the R1 looks like a standard GI 1911. And the feel in hand sure is similar. The R1 is a hefty pistol, weighing in at two pounds, eight ounces fully loaded.
The trigger has some texturing to it as well, but it is left in-the-white. The well-milled slide serrations are in the appropriate place for the thumb and forefingers to grip.
The rear of the grip does not have the curved mainspring housing found on a typical World War II model but instead uses a checkered flat housing like those found on original 1911 models. This gives the grip a straight appearance.
Even with these minor differences, the R1 is a 1911 not only in form but function. It is a single action handgun, meaning the handgun's hammer has to be cocked for the pistol to fire. Browning's locked breech design first used on the 1911 is of course incorporated here. The barrel tilts down to unlock under recoil and locks when the slide travels forward under the pressure of the recoil spring. A beautiful system that every modern pistol uses today. This model comes in 45 ACP, and the pistol feeds from two of the included seven-round magazines.
Initial Inspection
My R1 came in its green cardboard box with included manual, cable lock, two magazines, and a bushing wrench. After ponying up the cash for some four hundred fifty rounds of 45 ACP, I went on to take apart the pistol–my first time disassembling one in years. Disassembly is more complicated than newer designs but the more times I disassembled the pistol, it became easier. But first out of the box, the pistol was very tight and I had to use the included wrench to power off the barrel bushing so I could take the slide off. I cleaned and lubed the pistol with my standard 3-in-1 machine oil and that was all the maintenance I would go onto do. The pistol would go through testing without cleaning or lubrication and it would do better than I expected.
On The Range
The Remington R1 was my first serious reentry into automatic pistols, having shot revolvers for a long time. I am used to a tucked grip and a heavy double-action trigger pull. A tucked grip is unnecessary with an autoloader, and a 1911 has a hair trigger by comparison. With that in mind, I started by shooting at a series of targets from seven to twenty-five yards with Remington UMC 230 grain FMJ ammunition. Loading the magazines for use was an easy proposition. The mags are big, the ammunition is big, and the springs were not too tight. I could get all seven in the magazine without any trouble, which isn't always the case in some guns. Slapping the magazine into the butt of the grip and briskly racking the slide chambers the round, though at times I forgot about the thumb safety–another aspect absent on revolvers–as the pistol can't be loaded with the safety on.
Taking a firm grip to disengage the grip safety and aiming the pistol to the target was organic. Like any 1911, the R1 is a natural pointer, and the sights were easy to pick up. Taking my time offhand, I placed my seven rounds into a two-inch group at seven yards. At twenty-five, the best I could do was six inches. Could I have done better? Probably. I will throw out my excuse of dealing with a very light four and a half pound trigger pull with very short travel and reset. I am tempted to put too much finger on the trigger to leverage the twelve-pound trigger on a revolver, and some of my shots strung out to the side from time to time. The R1 proved to be a test of the fundamentals of trigger control. In later sessions, a pattern developed where my shooting was terrible starting but improving later on in the day.
Despite the good shooting, I was initially skeptical of the R1 when it came to performance. The recoil of the heavy 45 ACP round was pretty tame in this weighty pistol, though after some one-hundred round sessions, the web of my hands were getting raw.
The pistol points well shoots well and looks good doing it. But that doesn't mean I had no issues. I was more surprised by having far fewer issues than I believed. There is a fraction of horizontal play in the trigger; something considered normal for me might be unacceptable to 1911 aficionados. Regarding malfunctions, I counted three. Three double-feed malfunctions occurred, twice using Remington and PPU 230 grain full metal jacket rounds and once while testing some Sig Sauer Elite Performance 200-grain hollow points. This leads me to believe there was an extractor lacking the right tension but as the curse of the range ended up showing, it was cured by more shooting. [new gun? limp wrist?] After hitting the two hundred round mark, I experienced no problems.
Final Thoughts
The 1911 served as the standard issue pistol for the United States armed forces for over seventy-five years. The gun's cult status is undeniable, and there is no wonder why there is such a market for it, even when technology has advanced. Remington made a good, safe choice when they chose the 1911 to be their first re-entry into the handgun market.
They bring another brand to what is, frankly, an oversaturated market. Budget-friendly 1911s can be a hit or miss affair, and some will contend you need to spend thousands on a good 1911. But some of us want a taste of it without buyer's remorse. I can't tell you that the Remington is better than a Kimber or a Springfield, but what I can say is that I left the range with a gun that was far smoother of a shooter than what I expected.
This Article First Appeared on Ammoland
The Author;
About Terril Hebert: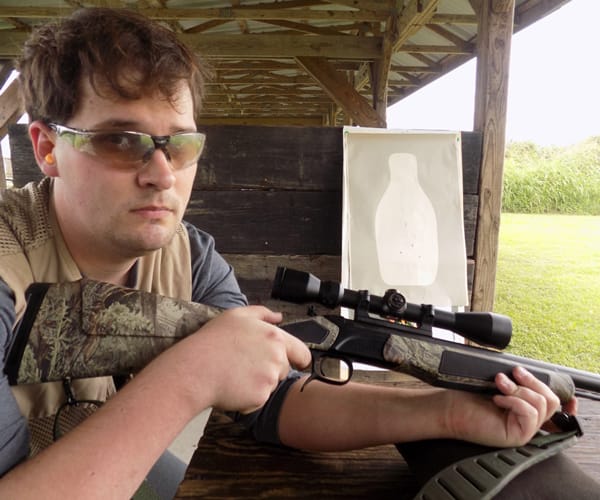 Terril Hebert is a firearm writer native to south Louisiana. Under his motto-Guns, Never Politics-he tackles firearm and reloading topics both in print and on his Mark3smle YouTube channel, where he got his start. Terril has a soft spot for ballistics testing, pocket pistols, and French rifles. When he is not burning ammo, he is indulging his unhealthy wildlife photography obsession or working on his latest novel. Scourge of God, published in 2017. See more from Terril on youtube under Mark3smle