08June
Review: Kahr T9 Elite
In this age of "shootable Tupperware," Kahr Arms—with corporate headquarters in Pennsylvania and production in Massachusetts—still makes steel semiautos with well-machined parts and tight tolerances. While staying true to solid construction standards, the company occasionally offers a surprise in terms of looks and style. That's the case with the T9 Elite, a double-action 9mm pistol released last year. I've had my hands on one for the last few weeks.
This pistol is the Cadillac version of the company's T series and among the largest handguns made by Kahr. Some will find it challenging to conceal. The tradeoffs for that are less felt recoil and style, lots of style. With a glowing stainless slide and frame, and a beautifully grained and checkered wood grip by Hogue, it's a high-calorie choice in the eye candy department.
The T9 Elite has steel construction, and every component is CNC machined. The match-grade barrel is CNC-machined from a single piece of billet steel. It has a Browning-style recoil lug and polished feed ramp. It is a bushing-less design with a guide rod and recoil spring that can be taken apart for cleaning.
On top, the polished steel slide is engraved with rear cocking serrations. The "T9" emblem is embossed in bold style, while the "Elite" designation, engraved in cursive, is quite subtle. The Elite model sports Novak tritium, three-dot night sights, with the rear one being windage-adjustable. The front sight dot appears rather large in daylight, with a light-colored ring around the tritium insert. In darkness, the glowing dots all appear to be the same size.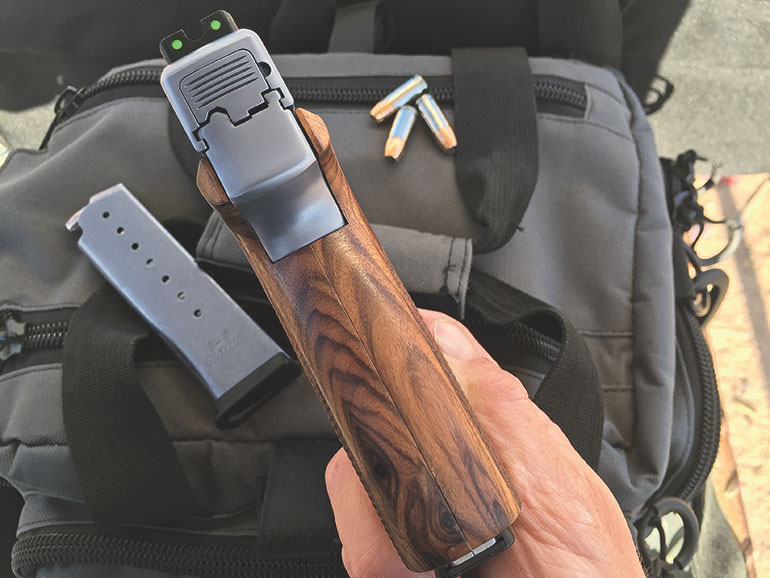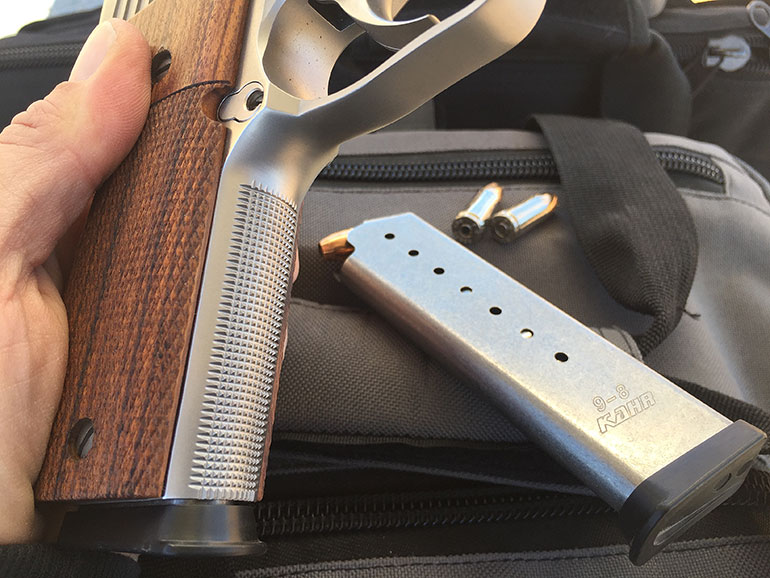 Kahr's pistols incorporate a partially cocked striker. Pulling the trigger operates a cam system that fully cocks the striker and fires the gun, so it's essentially a double-action trigger. Two internal striker-blocking mechanisms prevent forward movement of the striker unless it's cocked and the trigger is being pulled. The trigger lever is curved in a classic double-action profile, and it's easy to reach despite the gun's relatively fat grip.
There's a grooved, standard magazine release button on the left side. It's small and somewhat recessed from the outermost profile of the pistol, making it nearly impossible to unintentionally engage during carry. But that also means you'll need to practice with the button to ensure you can execute clean and fast reloads. All three magazines in this test dropped freely when the grip was held in the vertical during reloads. That's an efficient trait—one of my must-haves on any semiauto pistol. The release is not reversible for left-handed operation.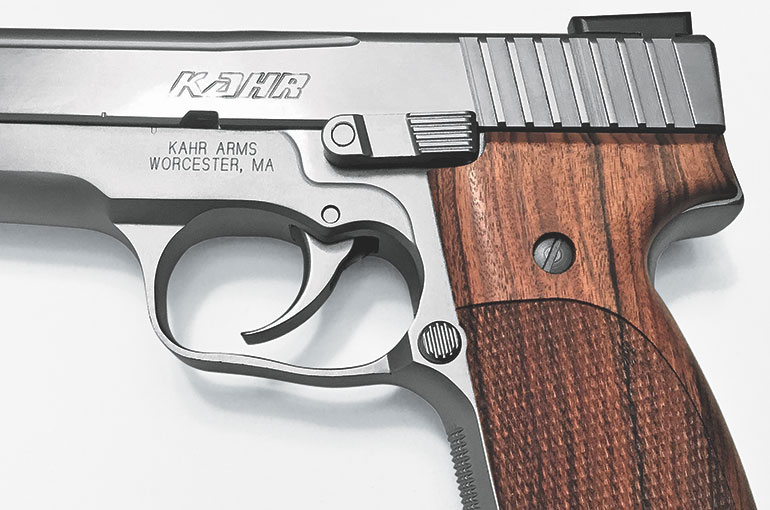 It's known that break-in periods are standard operating procedure for optimal performance of Kahr pistols. The accuracy test groups represent the first rounds fired out of this pistol, so it can potentially get even better. During later testing, I fired a five-shot trigger control drill from five yards on the T9 as a demo for a student. To my surprise, the T9 punched in a smaller single hole than is usually yielded from the striker-fired polymer gun I shoot twice weekly.
The 4.8-pound trigger pull on the T9 Elite maintains consistency throughout the press. When firing slowly for groups, I could hear and feel the trigger spring's compression, but it was minor and didn't interfere. The break is clean and reset removes approximately one third of the travel. As double-action-only triggers go, it's the most like a match-grade trigger I've handled.
Despite the pistol's somewhat chunky grip, the low bore axis and intelligent design of the grip-to-trigger relationship make the T9 a fit for a much wider variety of hands than any other DAO platform I know of. It's also a vast improvement on the fit of the most prominent DA/SA pistols; it's easy to reach and still has the easy handling of a full-size pistol.
Notes: Accuracy results are averages of four five-shot groups at 25 yards from a sandbag rest. Velocities are averages of 10 shots measured with a Caldwell Premium chronograph set 12 feet from the muzzle. Abbreviations: FMJ, full metal jacket; JHP, jacketed hollowpoint; TSJ, total synthetic jacket
The Kahr T9 Elite is an accurate, attractive, well-built pistol that should last a lifetime with good care and ammunition. My only criticism is the relatively low capacity for its size, but Kahr makes up for that somewhat by providing three magazines. It ships in a hard-sided case with the foam padding custom cut for two magazines and the pistol.
KAHR T9 ELITE
TYPE: trigger-cocking double-action-only
CALIBER: 9mm Luger
CAPACITY: 8+1
BARREL: 3.965 in., Lothar Walther match grade, polygonal rifling, 1:10 twist
OAL/HEIGHT/WIDTH: 6.5/5.0/0.9 in.
WEIGHT: 28.1 oz.
CONSTRUCTION: Stainless steel (matte frame, polished slide)
GRIPS: Hogue checkered pau ferro wraparound
TRIGGER: 4.8 lb. pull (measured)
SIGHTS: low-profile Novak tritium front and rear
SAFETY: 2 internal striker blocks
PRICE: $1,052
MANUFACTURER: Kahr Arms, kahr.com
This article first appeared on Handguns.com